Panarotta 2002
Immagine 6
Riproduci le immagini fino ad oggi
QUESTA E' L'ULTIMA IMMAGINE SCATTATA IL GIORNO 28/06/2015

6:00
7:00
8:00
9:00
10:00
11:00

12:00
13:00
14:00
15:00
16:00

17:00

18:00

19:00

20:00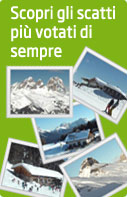 Altitudine max: 1.970 m
Altitudine min: 1.518 m
Tot km di piste: 18
Facili: 12
Medie: 3
Difficili: 3
Tot impianti di risalita: 4
Seggiovie: 3
Tapis Roulants: 1
Webcam archive
The archive contains images captured by the webcams situated along the ski runs of Trentino. Photos are taken every day, about once an hour.
Each webcam has several frames, which include the most beautiful views and the most interesting spots. You can navigate the different frames using the menu at the top, which shows a thumbnail of the shot.
You can switch from one ski area to another by selecting them on the map. In addition, 360-degree images are available that show a wide panorama of the area.

How it works
The webcam archive lets you scroll back in time and see what the ski runs were like in your favourite ski area on a certain day of the year. Select a date on the calendar and a time on the timeline on the frame, click "Play": you can see the changing landscape captured by the webcam throughout that day. By selecting "Play to date" you can see on the webcam how the weather conditions have changed to date, day after day, hour after hour.

Rate your favourite images
Rate the most beautiful frames. The images receiving the most votes will go into the section dedicated to the Top 5.

Download the photo
Click the "download" button to download the photo directly
onto your computer.